I'm no expert – just pulling together the books I've come across and loved. No particular order, just a small summary on each (and about a million hours worth of copy-and-pasting links to Amazon for you so you can buy them – you're welcome). 😉 Just bookmark it so you know what to read the next time you get the itch to read.
What books should you buy about Deaf culture and community?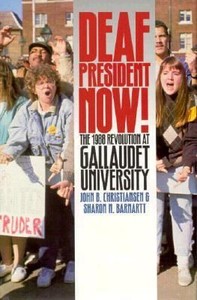 33. Deaf President Now!: The 1988 Revolution at Gallaudet University 
For any ASL student out there who realized that Switched at Birth's version of the Deaf President Now! movement wasn't the whole story. (Shocking, I know…) Full of pictures and easy to read – get "the rest of the story".
Authors: John B. Christiansen and Sharon N. Barnartt
 32. Talking Hands: What Sign Language Reveals about the Mind
You know me and international Deaf…well, anything, really. This is THE book for my 'read next list'! A modern day Martha's Vineyard, this book is on a Bedouin village in Israel with a high rate of deafness. Both hearing and Deaf villagers knew their unique sign language. Margalit Fox relates the significance of this village: mankind have an inborn capacity to create language, something she labels the "language instinct."
Author: Margalit Fox
 [LINK: The Life Cycle of an ASL Student]
An easy read to understand Deaf perspective in a hearing world and the values of the Deaf world. Make sense of Deaf issues, especially in regards to oralism vs. total communication ideologies.
Author: Leo M. Jacobs
 30. Through Deaf Eyes: A Photographic History of an American Community
If you ended up on this website by mistake and don't like reading, this is the book for you. 😉 Full of photographs of Deaf in history.
Curators at the Smithsonian put together a display on Deaf history in 2001 that drew in over 400,000 viewers. This is the capsule of information and photographs from this presentation.
Authors: Douglas Baynton, Jack R. Gannon, and Jean Lindquist Bergey 
 29. Outcasts and Angels: A New Anthology of Deaf Characters in Literature
Trent Batson and Eugene Bergman wrote the original Angels and Outcasts: An Anthology of Deaf Characters in Literature where they showed how Deaf were perceived in 19th and 20th century literature. Edna Edith Sayers has built on that providing a more recent study on how society tends to place Deaf in an "Angel" role or an "Outcast" role.
Author: Edna Edith Sayers
 28. Mother Father Deaf: Living Between Sound and Silence
What's it like to be culturally Deaf but functionally hearing? 150 CODAs were interviewed in the process of writing this book. If you want to see the world from a CODA (Deaf and hearing readers alike) and be able to take part in any kind of CODA discussion, this is a good start. Also read Hands of My Father: A Hearing Boy, His Deaf Parents, and the Language of Love to have a rounded perspective on this issue.
Author: Paul Preston
 27. Orchid of the Bayou: A Deaf Woman Faces Blindness
A strong proponent of picking up sign "naturally" in residential schools, Cathryn tells of her adoption of a variety of cultures: Deaf, Cajun, DeafBlind, and Jewish. As an adult she began losing her sight due to Usher's Syndrome and had to wrestle with thoughts of identity as she made the transition.
Author: Cathryn Carroll
 [LINK: 10 Reasons Deaf Cherish ASL]
 26. Lessons in Laughter: An Autobiography of a Deaf Actor
I absolutely hate (repeat for emphasis) HATE, the review by Amazon on this book. "To succeed as an actor is a rare feat. To succeed as a deaf actor is nothing short of amazing." Like it's some crazy thing for a Deaf person to be good at visual communication and performance…uh, yeah. Anyways, off topic a bit, but this is about the man who grew up in the Deaf world and founded The National Theatre of the Deaf.
Author: Bernard Bragg
25. Understanding Deaf Culture: In Search of Deafhood
Definitely a must read if you are 1) new to the Deaf world and 2) an academic. A heavy read but well worth the effort as it delves into the limitations placed on Deaf individuals when the medical standpoint trumps the "Deafhood" perspective.
Author: Paddy Ladd
If you want a compact, knock-you-over, cram course, and easy read book on anything (and nearly everything) Deaf, take a look at For Hearing People Only by Deaf Matthew Moore. The entire thing is made up of questions and answers, nice and simple for those among us who do NOT enjoy reading books. (And for the Gastons out there, there are pictures galore, no worries!)
This book will answer 150+ questions like "How do Deaf people feel when a hearing person approaches them in public using sign language?" or "Do all deaf people benefit from hearing aids?" or "Why do Deaf people always hang around after a play (or any other event) and stand together and talk?" I find the book to be pretty accurate and a good intro read for those of you curious about the Deaf world.
Authors: Matthew Moore and Linda Levitan
Let me make myself perfectly clear.  A Man Without Words is not about Deaf culture whatsoever. However, it will help readers understand what will happen when a person is kept from language as a child. This book was vital in my decision to support the Bilingual/Bicultural education method. The primary goal of a Deaf child's education is to be communication, not spending vital language years learning how to shape their mouth just right. (Take a look at #8 of this article to read more about this topic.)
Authors: Susan Schaller and Oliver Sacks
22. Deaf in America: Voices from a Culture
In my opinion Carol Padden is one of the greatest writers on Deaf culture.  Book number 2 on my list, Deaf in America: Voices from a Culture, is a relatively small book that contains historical and current issues in regards to our culture, ASL, and community.
Author: Carol Padden
While this isn't a book on Deaf culture (at all), Holly Elliott was the first Deaf therapist and her perspective on being a pioneer in her profession is worth reading. She is a total communication proponent.
Author: Holly Elliott
20. When the Mind Hears: A History of the Deaf

As a history buff, I am convinced that a person cannot truly understand another culture and people without learning of their history. The Deaf community is no exception. Most of Deaf culture traits, tendencies, sensitivities, and growth stems directly from its history. While this book may be quite large and a heavy read, it is a "have to" for those truly wanting to understand.  Written by Harlan Lane, arguably the greatest Deaf historian the world has ever known, When the Mind Hears is an excellent read.
Author: Harlan Lane
[LINK: My Visit to South African Deaf School]
 19. Open Your Eyes: Deaf Studies Talking
Open Your Eyes addresses all that students discuss in Deaf Studies – the intricacies of Deaf perspective on identity, gender, disability, family, race and place in society.
Author: H-Dirksen L. Bauman
 18. Hands of My Father: A Hearing Boy, His Deaf Parents, and the Language of Love
One of the best books written from the perspective of a CODA (in my not-so-expert opinion). As a hearing kid with Deaf parents, he grew up with sign language as his primary language with English as his second language. He finds himself bridging the gaps between the Deaf and hearing world.
Author: Myron Uhlberg
 17. Forbidden Signs: American Culture and the Campaign Against Sign Language
Baynton delves into the eugenicist movement in mid- and late-1800s and early 1900s that led to the attempted expulsion of sign language from the American Deaf population. He speaks again the oralist efforts of eugenists, such as Alexander Graham Bell, to separate "normal" from "abnormal" (according to his definition of the terms).
Author: Douglas C. Baynton
 16. The Unheard: A Memoir of Deafness and Africa
This is the next book on my reading list so I thought I'd include it. 🙂 Amazon says it's about a kid that is a marked "failure" in the oral system in America who goes to Zambia to be a Peace Corp volunteer. Yep, totally on my reading list. 🙂
Author: Josh Swiller
Not a book on Deaf culture, but definitely a classic. Gotta be part of the list.
Author: Mark Medoff
14. Train Go Sorry: Inside a Deaf World
This is a classic; a book that seems to always be in Deaf culture book lists. So we pay tribute to Leah Hager Cohen and her ability to write a famous book where most hearing do not understand the cover until they reach the end. Curious? Take a look here for Train Go Sorry.
Author: Leah Hager Cohen
Marlee Matlin, the youngest woman to win an Oscar, writes her story in the limelight. She tells of her successes in Children of the Lesser God, Seinfield and Dancing with the Stars and her struggle in Hollywood.
Author: Marlee Matlin
 12.  Looking Back: A Reader on the History of Deaf Communities and their Sign Languages
Yep, introducing another international study. Woot woot! Anything that involves a bigger perspective than Gallaudet (as wonderful as it is) gets me excited. I haven't read this yet, so no promises, but it's definitely a read for those of you like me interested in international Deaf communities and languages! [Oh and check out the authors – yep, definitely going to be a good one!]
Authors: Renate Fischer and Harlan Lane
 [LINK: 10 Deaf-Friendly Ways to Travel the World]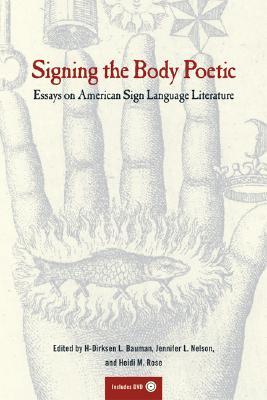 11. Signing the Body Poetic: Essays on American Sign Language Literature
I read this book while taking Deaf Poetry at Brigham Young University. It comes with a DVD of famous Deaf poets.
Author: H-Dirksen L. Bauman, Heidi M. Rose, Jennifer L. Nelson, W.J.T. Mitchell, William C. Stokoe
 10. American Deaf Culture: An Anthology
A collection of not just research, but entertaining stories from the Deaf perspective. Highly recommended by Deaf readers – not just another ASL 101 study on Deaf culture. If you want to be a fully-integrated, bicultural interpreter, make sure you read this first.
Author: Sherman Wilcox
9. The Mask of Benevolence: Disabling the Deaf Community
Written by arguably the key writer on Deaf issues in the 20th century, Harlan Lane clarifies that what truly disables the Deaf community has nothing to do with ears, but all to do with society's expectations and rejections. He also breaks the Cochlear Implant discussion.
Author: Harlan Lane
I'll admit, I haven't read this one yet. It looks fascinating though – definitely for the academics among us. It delves into the identity of Deaf culture founded on a common language.
Author: Oliver Sacks
 7. At Home Among Strangers: Exploring the Deaf Community in the United States
Written by a hearing author, Jerome D. Schein delves into the kinship found in the Deaf Community. As per the title, many Deaf explain their first entrance into the hearing world as "coming home". A home with communications, friendship, and mutual understanding.
Author: Jerome D. Schein
 6. Invisible Magic: Biographies of 112 Deaf Magicians from 28 Countries
Okay, definitely a gem of a find while writing up this list. Not a fan of the whole "overcoming disability" perspective of this book BUT it's certainly a unique topic that shows an art that has allowed Deaf to express their skills without being measured for vocal speech ability.
Author: Dr. Simon J. Carmel
5. Deaf Like Me
A classic story of a Deaf girl raised in the 60s when deafness was something to be hidden and feared. After many, many years of frustration for Lynn and her parents as she "failed" in the oral system, they met a Deaf child who could fully communicate with her parents in sign. (She can even crack a joke; unheard of for Lynn's parents up to that point.)
Author: Thomas S. Spradley and James P. Spradley
4. A Place of Their Own: Creating the Deaf Community in America
If Harlan Lane's "When the Mind Hears" is too big for your breeches, A Place of Their Own could be your solution to learning about Deaf History.
Authors: John Vickrey Van Cleve and Barry A. Crouch
3. Deaf Again
A kid, born Deaf, raised hearing, returns to being Deaf as he gets older. Excellent for ASL students to understand the all-too-often harsh reality of Deaf children raised in mainstream schools.
Author: Mark Drolsbaugh 
2. The Other Side of Silence: Sign Language and the Deaf Community in America
Have you ever wondered why heat arises every time a discussion starts about oralism vs. sign language? The Other Side of Silence gives a non-biased approach to the issue and can help ASL students understand the depth of feeling behind this issue.
Author: by Arden Neisser 
1. Everyone Here Spoke Sign Language
Everyone needs to have this book…I mean everyone. This is the one true example of Deaf heaven – where Deaf and hearing alike knew sign language, where Deaf held positions of power in the community, and where Deaf were often times more educated than their hearing neighbors.
Authors: Nora Ellen Groce and John W. M. Whiting
This has been more work than I thought it would be, sheesh – I'll get back to my normal posts now. 🙂
Make sure to check out: The Deaf Dream Organization!